ACCA's survey demonstrated that, irrespective of social background, there is strong support across the profession for career opportunities to be available to everyone. The public sector plays an important role in making this ambition a reality.
Governments have a range of policy levers available to them, from setting minimum standards in parental leave to education policy, which can affect the level of social mobility in a country. Furthermore, the public sector in many countries is a major employer that can lead the way in implementing good practices.
This section explores these two routes, by which public sectors around the world can contribute to improving social mobility. First, the dimensions of social mobility described in Section 2 (ie educational attainment, gender, geography, life course) are linked to corresponding government policies that should be considered for improving outcomes under that particular dimension. The second area demonstrates how the public sector can make a difference through the adoption of good practices in employment and diversity.
Figure 4.1: Dimensions of social mobility and examples of corresponding policy levers
4.1 Policy levers supporting change
There is no single intervention that can create an environment where everyone has equal opportunities. Government policy operates as a complex web of related impacts and improving social mobility requires the support of a range of public, private and third-sector actors across many policy areas. At the same time, the public sector is well placed to lead on the necessary change and can help shape the regulatory environment to encourage other societal actors to provide equal opportunities.
Analysis by the OECD shows that countries spending more on areas such as public education and health tend to see higher educational- and health-related absolute mobility (ie education and health outcomes are better for children than their parents). Importantly, however, more spending on public services is not always effective. Programmes that were well targeted to disadvantaged groups, focusing on equal access and quality, mattered more than the quantity of public money devoted to the policy area (OECD 2018a).
i. Life-course mobility/labour market policy
Much of the social mobility literature focuses on the right policy intervention in early years and education, rather than on young adults and later working life. Evidence in Section 2 demonstrated that an individual's social circumstances are often fluid over their lifetime, ie one can enter periods of higher or lower earnings through different life stages.
Life-course mobility and labour market policy are becoming particularly important with the rapidly changing nature of work. ACCA's report on robotic process automation (RPA) showed that 46% of respondents to a global survey had deployed some form of RPA in their organisation (ACCA 2018c). Other forms of technological disruption, such as Cloud computing, analytics and artificial intelligence, will reduce the time professional accountants spend on repetitive, mundane tasks and allow the finance function to focus on interesting and high-value-added work. At the same time, these disruptive technologies will require reskilling for some portion of today's labour market. Alongside these macro labour market disruptions, governments need to consider how they support citizens experiencing negative shocks in their lives – including events such as job loss or ill health – as well as the right balance of tax and transfer. This will help mitigate the risk of downward mobility for the individual and their family.
Governments need to consider what policies can be put in place to support individuals pursuing second, or third, careers. This encompasses the need to review effective active labour market policies to help provide unemployed citizens with routes into fulfilling employment, but consideration should also be given to what support is in place to help those in work who are looking to upskill. For example, France applies a payroll training levy that requires employers to fund a minimum amount of training for their staff, measured as a percentage of total payroll. If the employer does not meet the required training threshold, they must pay an equivalent amount to support employee training in their sector. [4] This policy is meant to encourage employers to fund continuous learning in their organisations, where the government funds staff training programmes if the employer does not meet the minimum thresholds in a particular year. Of course, the balance of obligations in meeting training needs cannot fall only on employers. In providing equal opportunities for all, it is also important for governments to consider how they can provide opportunities for individuals that are further from the labour market, often with relatively less financial means, to upskill throughout their working lives.
ii. Educational attainment and development/early childhood education
Varied levels of familial support in the early years of child development result in a difficult policy challenge for governments working to create an environment of equal opportunity. Section 2 showed that children from families with higher socio-economic status can have vocabulary that is 18 months ahead of their lower socio-economic-status peers. Therefore, differences in family background can affect how prepared a child is for formal education.
The expansion of early childhood education can have the dual purpose of supporting the critical early development of the child, while also enabling parents to return to work to limit any interruption to their employment. Early childhood education can provide opportunities for young children from every background to develop and socialise. Norway has introduced 20 weekly hours of free childcare, targeted at lower-income families, in order to help close the development gap between young children from different social backgrounds (Government of Norway 2014).
Direct state intervention, through early childhood provision or similar programmes, may not always be appropriate for closing the development gap in the early years. Governments should also consider how they can support new parents in meeting the developmental needs of their children while remaining in the home. Other interventions can help reduce disadvantage for children in full-time education. For example, a simple change in the US, where children from lower-income families were opted into free school meals, instead of having to elect to participate, has meant that about 400,000 children in the US have adequate nutrition to support their learning (Gleason 2008).
iii. Gender dimension / parental leave
The World Economic Forum's Global Gender Gap Report (WEF 2017) shows that considerable work is needed to equalise opportunities between the sexes, with female political engagement and economic participation particularly lagging behind the levels enjoyed by males. Recent ACCA research has demonstrated that it can take a woman seven more years than an equally qualified man to reach the executive level. This research showed that the real divergence in career trajectory between male and female finance professionals occurs once individuals enter childbearing years. There are many drivers of this disadvantage, but governments can make a real difference to employment outcomes between genders by adjusting statutory parental leave requirements to help normalise equal care responsibilities between the sexes. Policy levers that can be adjusted in creating a more level playing field include:
the minimum length of parental leave for each parent
the wage replacement rate provided during that leave
the allocation of leave between the parents, and
the division of costs for parental leave between the state, the employer and the parent(s).
Governments will often set out in law the minimum standards for parental leave in the above areas. Beyond these minimums, it is also important for employers to consider what policies they can put in place to help create an environment that supports equal opportunity for every gender.
Some jurisdictions provide generous paternity leave conditions, but still experience very low levels of take up by new fathers. For example, Japan offers new fathers up to 52 weeks of paternity leave with a replacement rate of nearly 60% of their annual salary. Even with these generous conditions, only 2% of eligible new fathers took any paternity leave in 2015 (WEF 2016). This demonstrates that the regulatory framework can be insufficient in tackling the division of care, which instead requires changing societal norms. Some countries have responded to this issue with policies where a portion of parental leave must be used by the father or it is lost – a 'use it or lose it' policy. Even with these complexities, the benefits of achieving equal care responsibilities are worth pursuing. Prejudice in hiring and promotion will be reduced if men take equal responsibility in providing care, and evidence suggests that children perform better when both parents are present during their early years of development (Craig et al. 2018).
iv. Geographic dimension/infrastructure investment
Social mobility outcomes often vary considerably within a country. Section 2 demonstrated that countries can develop mobility 'hotspots' and 'coldspots', where upward mobility is more or less likely in certain parts of the country. There will be a range of factors driving these disparities, but governments can make a difference by considering the distribution of public investment across the country. The proximity and accessibility of core public services such as healthcare and education are important for a child's development. A lack of transport infrastructure can also cause certain areas within a country to become 'coldspots', as individuals are unable to travel reliably to educational or professional opportunities.
Finance professionals in the public sector are particularly well placed to help make the right public investment choices, as they can consider a broader range of factors when advising on where governments should allocate infrastructure spending. Economically prosperous areas are likely to see a larger forecasted economic boost from additional infrastructure spending than less-developed regions, and can therefore be the natural choice for more investment. It is important that public finance professionals look beyond bottom-line economic benefit, considering how the distribution of public money can create or reinforce areas of prosperity or deprivation.
For example, analysis by the Institute of Public Policy Research (IPPR North) has shown that planned transport infrastructure investment for London (at £4,155 per capita) is almost 2.6 times higher, per capita, than in the north of England. In comparison, the Yorkshire and the Humber region has only £844 per capita of planned transport infrastructure investment – about 20% of London's forecasted level of investment. The Social Mobility Commission's top four mobility 'coldspots' in the UK, shown in Section 2, all received less than one-third of the transport investment planned for the London area. This distribution of investment can exacerbate regional inequality. Of course, the regional distribution of investment cannot be the only factor for public sector decision makers. The economic benefit associated with the investment, the forecasted level of use, and sustainability of the project are all important factors. Ultimately, governments working to create an environment of equal opportunity must assign due consideration to the distribution of their investments, where questions of equity are important in defining effective economic policy, if they are to limit the variation of social outcomes in a country.
Figure 4.2: Planned transport infrastructure investment, per capita, by UK region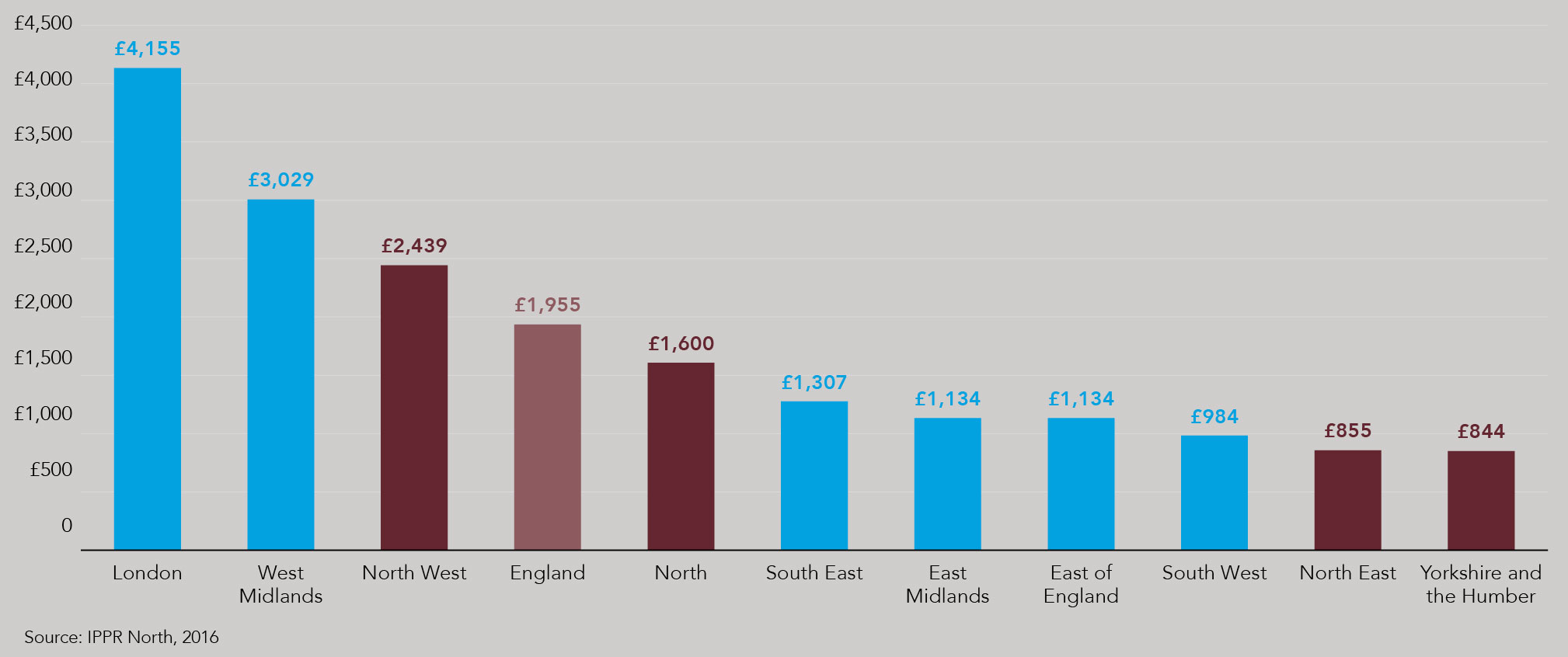 4.2 The public sector as an employer
Alongside the policy levers available to government, it is also possible to create a more equal and accessible environment for everyone working in the public sector. To build legitimacy and trust, it is important for public sector workforces to be representative of the communities that they serve. Public sector employment can often exceed one-quarter of overall employment in many countries (OECD 2017) and this creates a unique opportunity for the sector to 'lead by example': embedding good practices that support equal opportunity and diversity. If this is done well, governments can set an example for other segments of society in improving overall mobility.
ACCA's global survey showed that finance professionals working in the public sector were more likely to come from disadvantaged backgrounds – where their parents typically had lower educational attainment and did not work as professionals or managers. Finance professionals in the public sector were also more likely to begin and complete their professional qualification later in life. These findings demonstrate that, globally, the public sector can be more effective at providing opportunities to individuals from varied socio-economic backgrounds, as well as supporting upskilling later in life.
Open competition for public sector positions, through a transparent and meritocratic process, can improve access for other segments of society. Public services that are based on merit should have openly advertised job vacancies, seek to select the best candidate for the job, and provide mechanisms for challenging the decision where a breach is suspected. At the same time, enforcing transparent meritocratic processes is often not enough to ensure that an equal opportunity is offered to all. Entrenched advantage from early childhood through to school years can mean that certain individuals are able to present themselves as more work-ready than their peers. How should public sector employers respond to this problem? Some have taken affirmative action in selecting candidates from more diverse backgrounds for hiring or promotion. For example, by offering guaranteed interviews to applicants from disadvantaged groups, an otherwise exceptional candidate from a disadvantaged background, who might otherwise have been sifted out at the application review stage, could be offered the position.
It can be difficult to create an environment of equal opportunity in the public sector that seeks to prevent discrimination and to encourage applications from marginalised groups. At the same time, the size of the public sector means that systematic and cultural change from the top will be a challenge. The 'diversity dividend' that can arise from improved mobility into the public sector should not be underestimated. Representation from all segments of society can produce better engagement and organisational performance. Greater diversity has been demonstrated to improve decision making in an organisation (Hunt et al 2018) and increase innovation (Lorenzo et al. 2017). Building a successful programme of equal access can, therefore, support organisational objectives as well as signalling a broader labour market shift to supporting equal opportunity, regardless of social background.
---
[4] A further description of the payroll levy can be found in Ministère du Travail (2017).